Stephen Shapiro's Welcome Message
Does it seem like...

your team approaches each challenge the same way every time with rehashed versions of old ideas?
you've become experts at frustration instead of innovation?
it's become clear that your team looks at problems through the same lens over and over again?
What if your organization had a series of lenses through which you could look to see opportunities differently, to solve your most complex challenges, and to foster a culture of innovation?

Now, more than ever, organizations are increasingly being bombarded by new challenges, emerging technologies, and increased complexity.
Clients say they need to find high-quality solutions faster than ever before.
What about your organization?
Create a culture of innovation where everyone identifies, reframes, and solves your most important problems.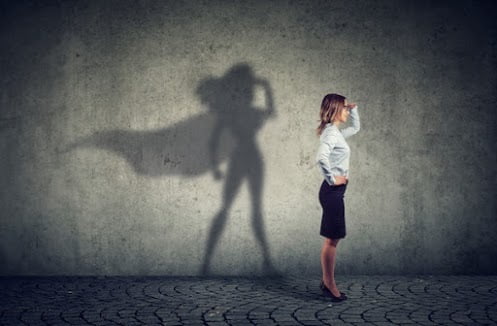 We help mild-mannered business professionals develop x-ray vision so that they can see through the most difficult challenges to reveal hidden solutions.
How? The Invisible Solutions® Institute equips professionals with simple yet scalable processes, tools, and structures that help turn all employees into innovators and problem-solvers.

Create a Culture of Innovation
Creating a culture of innovation is not a one-time event involving only a few people. It is a process and system that involves everyone in your
organization.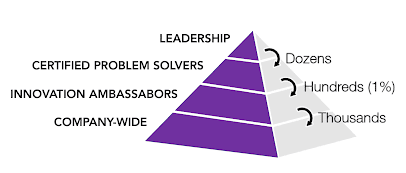 ♦ We work with the leadership team to make sure everyone is aligned
♦ We certify select individuals who will be your innovation "black belts"
♦ We create a wider network of innovation ambassadors who will bring change to the entire organization
♦ We provide educational materials for everyone to learn the process
We realize that every organization is different. Therefore, we tailor our solutions to meet your specific needs.
Typically, we deliver results combining four primary offerings...
When you need a boost of inspiration and a shot of education, our workshops and keynotes will give your organization new tools and perspectives.
These can be delivered to leadership groups or a larger audience.
These can be short presentations for larger audiences or longer sessions for a more select group.
These can be delivered in-person or virtually.
Live Problem-Solving Sessions



Sometimes you get stuck and want someone else to help you find solutions to your problems.
Our hot seat sessions get the job done.
Not only do you get solutions to your challenges, but you also learn the approach by watching the process demonstrated real-time on real-world problems.
Accountability, Mentoring & Support
To provide the greatest level of support to individuals and teams, one-on-one or group mentoring is the key for creating deep capabilities.
We focus on accountability and results through regular check-in sessions.
We also offer unlimited access to Stephen Shapiro through asynchronous voice and text. Ask any question 24/7.
Self-Paced and Facilitated Education
To build capabilities of a wider audience, we provide a variety of educational materials and tools to help bring the concepts to everyone in your organization.
We have self-paced video-based educational programs.
We have cohort-based learning options which can include time with Stephen.
All of the programs are supported by tools to help scale the concepts company-wide.
All of these are supported by tools, videos, and other methods for delivering content and capabilities to everyone in your organization.

About Stephen Shapiro

Founder of The Invisible Solutions® Institute

Stephen Shapiro drives innovation by showing leaders and their teams how to approach, tackle, and solve their more difficult business challenges.
Halfway through his 15-year tenure at Accenture, while co-leading the company's business process reengineering practice (focused on business efficiency), Stephen realized his work was responsible for people losing their jobs.
Wanting to create jobs rather than eliminating them, Stephen founded Accenture's 20,000-person process and innovation practice which focused on growth.
In 2001, after publishing his first book, 24/7 Innovation, Stephen left Accenture to become a full-time innovation speaker and advisor to clients around the world. He is the author of six books, including his latest, Invisible Solutions.
Today, Stephen continues to focus on transforming the way businesses like 3M, P&G, Marriott, Nike, NASA, and Microsoft improve their innovation practices.
What if your organization had an effective and systematic approach to deal with any problem?
To find better solutions, you need to first ask better questions. The questions you ask determine which solutions you'll see and which will remain hidden.
This compact yet powerful book contains the formulas to reframe any problem multiple ways; twenty-five lenses help you gain different perspectives. With illustrative examples and guidance, it contains everything you need to start mastering any challenge.
This book will help you…
discover why we are hardwired to ask ineffective questions and how to work through those barriers

understand the power and importance of well-defined questions

reframe any problem multiple ways to help you find the optimal solution

move from idea-based innovation to the question-based innovation that drives higher ROI
In addition to the book, our Invisible Solutions® approach is supported by videos, custom-developed web-based tools, online training programs, and much more.


Supporting Software and Tools
Invisible Solutions Lens Browser

Easy navigation

Video for each lens

Examples of use

Mobile friendly
Invisible Solutions Lens Chat bot

Interactive chat bot

Conversational interface

Helps you quickly zero in on the best lens

Actively assists in reframing
Do you want to see the power of reframing a problem? Watch this short video where Stephen share's a story from his Invisible Solutions book.

inquiries@myproblemsolving.org © 2021 STEPHEN SHAPIRO ENTERPRISES LLC Invisible Solutions® is a
407-476-5373 All rights reserved. Privacy Policy registered trademark of
Stephen Shapiro Enterprises

LLC in the United States.